Santa visits the Gulf Islands early, much to the delight of our Pender and Saturna Island kids! The Santa Ship arrives mid-December with Santa Claus, Mrs Claus, and charming entourage of helper elves, clowns, and pirates festooned with trinkets to hand out to the joyous children who gather to greet them at the docks!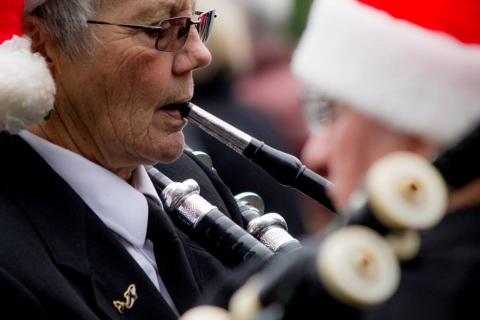 The pirates engage in playful mock sword-fights (often it's the littlest girls who are the toughest opponents!), the clowns and the elves move up and down the lineup of parents and children awaiting their chance to meet Santa and Mrs Claus, and to receive gifts that are given to all the children. It's a magical Gulf Island tradition! 
On Pender Island the Pender Highlanders arrive decked out in their finest to provide cheerful musical accompaniment, the Pender Island Fire Rescue brings a fire truck for the kids to explore, and there is hot chocolate to keep everyone warm.
Parents, grandparents, aunt and uncles, and friends of all ages mingle and chatter while the kids run amok with Santa's helpers. It's the charming part of Gulf Island life for kids, the freedom to run around that is hard to come by in bigger cities nowadays.
The line is long and the anticipation to meet Santa is palpable in each child as they move towards their turn. Finally it's their turn! After a brief chat with Mr. and Mrs. Claus and the photos are taken, each child is given a gift and a bag of goodies.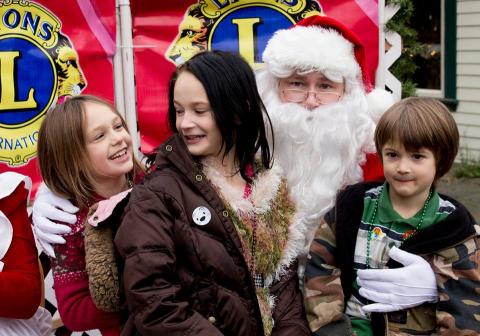 We owe our thanks to The Lions Club International for putting on this annual event. There's so much joy when the ship pulls up to the dock, Christmas carols playing, festivities and costumes and gifts and goodies and play.
All are welcome to this event, even if you are just visiting Pender or Saturna Island, you're welcome too!
For Santa Ship dates visit:
Pender Island Chamber of Commerce Calendar of Events